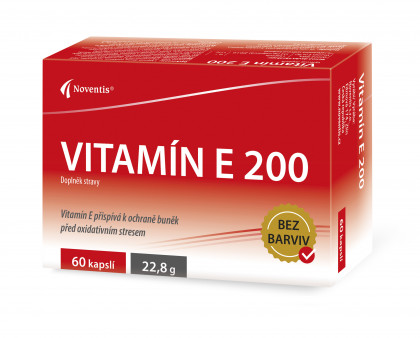 Vitamin E 200
Capsules with antioxidant effects. Vitamin E contributes to the protection of cells from oxidative stress.
Capsules with antioxidant effects. Vitamin E contributes to the protection of cells from oxidative stress.
1 capsule contains:
| | | |
| --- | --- | --- |
| | 1 capsule contains | RDI % |
| Vitamin E | 134 mg (200 I.U.) | 1116 |
% RDI = % Recommended Daily Intake in one capsule
Composition: DL-alpha Tocopheryl Acetate, gelatin, olive oil, glycerol humectant, E120 colour
Contents: 60 soft gelatin capsules. 22,8 g.
Dosage:1 capsule every other day.
The recommended dosage must not be exceeded.
Wheat germs are an excellent source of vitamin E in nutrition. Two table spoonfuls contain about 40 mg. A sufficient amount is also contained in vegetable oils, nuts and seeds (such as almonds, sunflower seeds) and green vegetables.
Jsem alergická na sójové produkty, mohu užívat Vitamín E? (User: HS)
Answer from NOVENTIS:
Ano, jako vehikulum při výrobě používáme olivový olej.
Jaký je rozdíl mezi vitamínem E v doplňcích stravy a v léčivech? (User: T)
Answer from NOVENTIS:
Rozdíl mezi naším Vitamínem E 100 a 200 je pouze v dávkování. Kvalita vitamínu E v obou kategoriích je stejná. Vitamín E je silný antioxidant, který pomáhá bojovat proti volným radikálům, které mohou poškodit jednotlivé tkáně organismu a urychlují stárnutí. V našem doplňku stravy je 67 mg vitamínu E (Vitamín E 100) resp. 134 mg vitamínu E (Vitamín E 200). V terapeutických indikacích se používá dávkování 200 – 400 mg denně. Vitamín E se v indikovaných případech používá jako doplňková léčba při poruchách plodnosti, pro zlepšení potíží v klimakteriu, při poruchách nervové a svalové tkáně.
Je užívání vitamínu E bezpečné? (User: TK)
Answer from NOVENTIS:
Užívání vitamínu E bez doporučení lékaře není v hodné u osob s kardiovaskulárním onemocněním a u pacientů užívající antikoagulantia.
Doplněk stravy
Kapsle s antioxidačními účinky vitamínu E
Vitamín E přispívá k ochraně buněk před oxidativním stresem
Denní dávka obsahuje:
| | | |
| --- | --- | --- |
| Účinná látka | 1 kapsle | *% |
| Vitamín E ( TE) | 134 mg odpovídá 100 I.U. | 1116 |
*% referenční hodnota příjmu
Složení: DL-alfa tokoferolacetát, želatina, nosič olivový olej, zvlhčující látka glycerol, barvivo E 120.
Obsah: 50 měkkých želatinových kapslí.
Hmotnost obsahu 9,7 g.
Dávkování: 1 kapsli denně, polykat, nekousat, zapít sklenicí vody. Doporučené dávkování se nesmí překračovat.
Upozornění: Nevhodné pro děti. Ukládat mimo dosah dětí.
Není určeno jako náhrada pestré, vyvážené stravy a zdravého životního stylu.
Neužívejte tento doplněk stravy společně s léčivy ovlivňujícími krevní srážlivost. Neužívejte při zvýšené tendenci k tromboembolickým příhodám. Užíváte-li jakékoliv léky nebo doplňky stravy, poraďte se o vhodnosti užívání tohoto přípravku se svým lékařem.
Skladování: Uchovávejte při teplotě od 15 °C do 25 °C, v původním obalu, aby byl přípravek chráněn před světlem a vlhkostí.
Upozornění:
It is not intended for children under 3 years of age. Keep out of reach of children. It is not intended as a replacement of a well-balanced diet. Do not use in case of blood clotting disorders or in case of using any medication influencing blood clotting. Do not use in people with tendency for venous thromboembolism. If you use any medication or food supplements or if you have any health problems consult using this product with your physician.
Při používaní vitamínu E pozor na:
Warning for people using vitamin E: Patients using medication influencing blood clotting should consult using vitamin E first with their physician. Do not use vitamin E two days before any surgical procedures and two days afterwards. If you have health problems, consult using this food supplement with your physician.
Do you know that...
Recommended dosage of vitamin E: The recommended daily dose of vitamin E is not generally defined, however, it is suggested that for both men and women a sufficient intake is 10 mg daily. These levels may prevent the body from its deficit, however, full antioxidant effect requires higher doses.
Vitamin E and its deficit: In case of vitamin E intake being lower than the recommended daily dosage, it may result in nervous system disorders and reduce the lifetime of red blood cells. However, people with a well balanced diet do not face such a risk.
Excess of vitamin E: No toxic effects of vitamin E were determined in daily doses higher than 2,000 mg. Some mild events are rarely reported such as headaches and diarrhoea. High doses of vitamin E, however, may interfere with vitamin A absorption. Food containing vitamin E –Estimated quantity of vitamin E (in mg) in certain foodstuffs (100 g).
| | | | |
| --- | --- | --- | --- |
| Food | Vitamin E contend | Food | vitamin E content |
| Sunflower oil | 95 | Avocado | 3,2 |
| Soybean oil | 70 | Peppers | 3 |
| Sunflower seeds | 37 | Asparagus | 2,5 |
| Wheat germs | 27 | Butter | 2,2 |
| Hazelnuts | 25 | Spinach | 2 |
| Almonds | 20 | Eggs | 1,6 |
| Soy beans | 13 | Tomatoes | 1,2 |
| Peas | 8 | Black currant | 1 |
| Beans | 4 | Liver | 0,7 |
| Blackberry | 3,5 | Raisins | 0,7 |