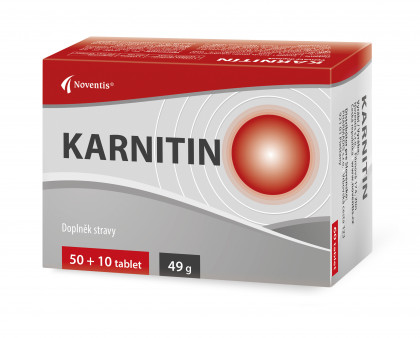 Karnitin
Be fit. Tablets containing 500 mg of crystal L–carnithine L–tartrate (equal to 340 mg of clear L–carnithine).
Be fit. Tablets containing 500 mg of crystal L–carnithine L–tartrate (equal to 340 mg of clear L–carnithine).
1 capsule contains:
| | |
| --- | --- |
| | 1 capsule |
| L–carnithine L–tartrate | 500 mg |
Composition: crystal L–carnithine L–tartrate (equal to 340 mg of clear L–carnithine), sorbitol, hydroxypropylmethylcelulose, magnesium stearate, anticaking agent colloidal silicon dioxide.
Contents: 30 tablets.
Dosage: Adults use 1 tablet 1 – 3 times a day or 2 tablets once a day ½ hour before sport activity.
The tablets should be taken before meals and swallowed with a glass of water.
The recommended dose must not be exceeded.
Je nutné Karnitin tělu dodávat? (User: B)
Answer from NOVENTIS:
Ne, karnitin je látka tělu vlastní a lidský organismus si ji dokáže vyrobit sám z aminokyselin lysinu a methioninu. Důležitý pro syntézu je vitamín C, a dále pak vitamíny B6, B3 a železo. Proč tedy užívají Karnitin sportovci ve formě doplňků stravy? Sportovci věří, že Karnitin pomáhá zrychlovat oxidaci, zlepšuje výkon, snižuje produkci volných radikálů, snižuje riziko vzniku svalových křečí a chrání svaly během tréninku. Názory vědců se však hodně rozcházejí. Evropská komise schválila tvrzení, že přísun Karnitinu nemá žádný vliv na spalování tuků,a proto nezbývá, než účinky karnitinu jednoduše ověřit na vlastní kůži. Nezapomínejte užívat Karnitin alespoň půl hodiny před sportovním výkonem!
Co je to Karnitin? (User: B)
Answer from NOVENTIS:
Karnitin je klasifikován jako aminokyseliny, i když to není aminokyselina v klasickém slova smyslu. Aminokyseliny organismus zpravidla využívá pro syntézu bílkovin nebo plní funkci neurotransmiterů. Funkcí karnitinu je podpora procesu tvorby energie z tuků.
Doplněk stravy
se sladidlem
1 tableta obsahuje 340 mg čistého karnitinu
Složení: L-karnitin L-tartrát DC, nosič (sladidlo) sorbitol, stabilizátory hydroxypropylmethylcelulóza a polyvinylpyrrolidon, protispékavé látky stearan hořečnatý a koloidní oxid křemičitý.
Obsah:30 tablet.
Hmotnost obsahu 24,2 g.
Dávkování: Dospělí užívají 1 - 3krát denně 1 tabletu ev. 1krát denně 2 tablety ½ hodiny před sportovním výkonem.
Tablety se užívají celé, před jídlem a zapijí se dostatečným množstvím tekutin.
Doporučená dávka se nesmí překračovat.
Upozornění: Není určeno pro děti a mladistvé do 18 let.
Nevhodné pro těhotné a kojící ženy.
Ukládat mimo dosah dětí.
Není určeno jako náhrada pestré, vyvážené stravy a zdravého životního stylu.
Nadměrná konzumace může vyvolat projímavé účinky.
Skladování: Uchovávejte při teplotě od 15 °C do 25 °C, v původním obalu, aby byl přípravek chráněn před světlem a vlhkostí.
Warning:
It is not intended for children and youths under 18 years of age. It is not to be used by pregnant women and breastfeeding mothers. Keep out of reach of children. It is not intended as a replacement of a well-balanced diet Excessive consummation may cause diarrhoea. If you use any medication or food supplements or if you have any health problems consult using this product with your physician.
Did you know...
Carnithine in the body is produced from amino-acids Lysine and Methionine with participation of vitamins (niacin, pyridoxine and vitamin C) and co-participation of iron. If any of the above mentioned substances are deficient in the body, production of carnithine is hindered. Increased need of carnithine may be helpful for the following people:
vegans – substantial limitation of consuming all food stuff of animal origin (most carnithine can be found in meats, cheeses and eggs)
people of middle or advanced ages who suffer from loose muscular mass and increased proportion of fat tissue
people with excessive physical activity – carnithine is needed by endurance athletes
people in reconvalescence periods – after injuries or after surgeries – carnithine improves the reconvalescence period
Carnithine has " a glycogen sparing" effect, which is important especially for athletes. It reduces the production of lactic acid (lactate) during high intensive physical exercise and after finishing sports activities it speeds up body regeneration.