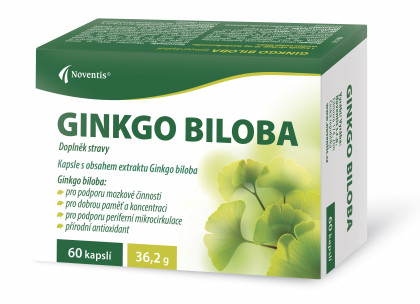 Ginkgo Biloba 40 mg
Ginkgo biloba helps improve memory, alertness and concentration, is beneficial for proper perfusion of the brain and extremities. Contains natural antioxidants.
Ginkgo biloba:
helps improve memory, alertness and concentration
beneficial for proper perfusion of the brain and extremities
contains natural antioxidants
Capsules contain standardized extract from the leaves of Ginkgo biloba – ginkgo tree. Its active ingredients help to maintain memory, enhance brain activity and capacity of concentration. They improve cognitive functions and activity levels.
They improve peripheral circulation and therefore improve perfusion in peripheral parts of the body (hands, feet). Gingko biloba is a potent natural antioxidant that contributes to the protection of cells before damage by radical oxygen species.
1 capsule contains:
| | | |
| --- | --- | --- |
| | | % DDD* |
| Standardized extract of Ginkgo biloba | 40 mg | - |
Composition: soybean oil, gelatin, thickener palm oil, humectant glycerol, standardized extract of Ginkgo biloba (24% ginkgoflavonoglycosides and 6% terpenolactones) thickener coconut oil, emulsifier bee wax and soybean lecithin, purified water, colour E 172.

Contents: 60 soft gelatin capsules.

Dosage: 1 capsule a day. The capsules should be taken with meals and swallowed with a glass of water.
The product should be used in long-term.
The recommended dosage should not be exceeded.
--- no question was inserted ---
Warning:
It is not intended for children and youths under 18 years of age. It is not to be used by pregnant women and breastfeeding mothers. Keep out of reach of children. It is not intended as a replacement of a well-balanced diet. Do not use in case of blood clotting disorders or in case of using any medication influencing blood clotting including salicylates and barbiturates. If you use any medication or food supplements or if you have any health problems consult using this product with your physician..
Víte že...
The extract from the leaves of Ginkgo biloba has been used for centuries to protect health, why it is called "The tree of the aged and wise people". The leaves contain a large quantity of flavonoids, terpens, organic acids and other substances which structure cannot be exactly differentiated even by modern science. Complex of these substances called "ginkgolides" is contained in no other plant. The basic effect of leaf extract is dilation of the capillaries of the peripheral vascular system and improvement of blood flow parameters (vasodilatation) and also antioxidant effects.
Its use results in improved blood flow in all vessels in the human body which causes better oxygen and nutrients delivery to all body organs. In the brain tissue it improves oxygen utilization in the cell which improves concentration and general mental functions: students remember what they learn better, managers handle more activities and are more competitive, elderly people are partially relieved of their forgetfulness, states of confusion and depression. Improvement of blood flow in the body, however, is not concentrated only in the brain but also in "peripheral" parts of the body: improved blood supply in the inner ear results in removal of unpleasant tinnitus. Also retinal circulation is improved in patients with diabetes and delays the development and progression of diabetes-related eye problems that may result in loss of vision. Another area of use is reconvalescence in people after strokes where Ginkgo helps faster rehabilitation and reduction of symptoms.