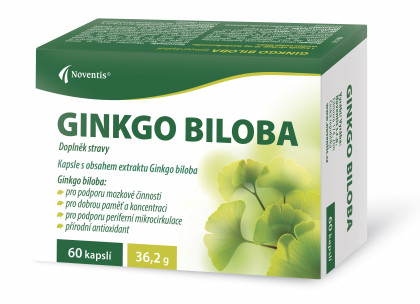 Ginkgo Biloba 40 mg
Ginkgo biloba helps improve memory, alertness and concentration, is beneficial for proper perfusion of the brain and extremities. Contains natural antioxidants.
Ginkgo biloba:
helps improve memory, alertness and concentration
beneficial for proper perfusion of the brain and extremities
contains natural antioxidants
Capsules contain standardized extract from the leaves of Ginkgo biloba – ginkgo tree. Its active ingredients help to maintain memory, enhance brain activity and capacity of concentration. They improve cognitive functions and activity levels.
They improve peripheral circulation and therefore improve perfusion in peripheral parts of the body (hands, feet). Gingko biloba is a potent natural antioxidant that contributes to the protection of cells before damage by radical oxygen species.
1 capsule contains:
| | | |
| --- | --- | --- |
| | | % DDD* |
| Standardized extract of Ginkgo biloba | 40 mg | - |
Composition: soybean oil, gelatin, thickener palm oil, humectant glycerol, standardized extract of Ginkgo biloba (24% ginkgoflavonoglycosides and 6% terpenolactones) thickener coconut oil, emulsifier bee wax and soybean lecithin, purified water, colour E 172.

Contents: 60 soft gelatin capsules.

Dosage: 1 capsule a day. The capsules should be taken with meals and swallowed with a glass of water.
The product should be used in long-term.
The recommended dosage should not be exceeded.
Studuji na vysoké škole. Pomůže mi Ginkgo biloba ve zkouškovém období? (User: TB)
Answer from NOVENTIS:
Ginkgo biloba má spíš dlouhodobější účinky na paměť, jednorázové užití vám paměť nezlepší. Extrakt Ginkgo biloba obsahuje dvě velmi důležité složky - terpenoidy a flavonoidy, což jsou antioxidanty, které pomáhají eliminovat volné radikály a chránit buňky v lidském těle. Velmi důležité je zachování si zdravé paměti během stárnutí. Ginkgo biloba může mít vliv na zlepšení rozpoznávacích funkcí, kvalitu myšlení, vybavování vzpomínek, sociální funkce…
Může se Ginkgo biloba používat při bolestech hlavy nebo migréně? (User: MT)
Answer from NOVENTIS:
Žádná studie tyto účinky nepotvrdila, takže použití ginkgo biloba v této indikaci je pouze spekulativní. Přesto jsme však zaznamenali signály z terénu, že v některých případech ginkgo biloba skutečně při bolestech hlavy pomáhá.
Před měsícem jsem začal užívat Ginkgo biloba a zaznamenal jsem kvalitnější erekci. Může to spolu nějak souviset? (User: HM)
Answer from NOVENTIS:
Ginkgo biloba zvyšuje prokrvení periferních částí organismu a bývá také často obsažen ve směsích rostlinných extraktů pro podporu erekce
Má Ginkgo biloba vliv na usínání a kvalitu spánku? Obsahuje kofein? (User: JV)
Answer from NOVENTIS:
Ginkgo biloba kofein neobsahuje, přesto však může spánek ovlivnit. Ginkgo biloba zvyšuje prokrvení mozku, a proto může mít negativní vliv na usínání. Doporučujeme jej užívat v dopoledních hodinách.
Ginkgo biloba:
Napomáhá udržet paměť, pozornost a soustředění
Podporuje periferní cirkulaci krve
Obsahuje přírodní antioxidanty
Kapsle obsahují standardizovaný extrakt z listů rostliny Ginkgo biloba – jinanu dvoulaločného. Jeho účinné látky pomáhají udržovat paměť, zvyšují mozkovou aktivitu a schopnost soustředit se. Posilují kognitivní (poznávací) schopnosti a aktivitu.
Zlepšují periferní krevní oběh a pomáhají tak k prokrvení očí a uší, což přispívá ke správné funkci zraku a sluchu.
Gingko biloba je účinný přírodní antioxidant, který přispívá k ochraně buněk před poškozením volnými radikály.
1 kapsle obsahuje 40 mg standardizovaného extraktu Ginkgo biloba
Složení: sójový olej, želatina, palmový olej, zvlhčující látka glycerol, extrakt Ginkgo biloba (jinan dvoulaločný standardizovaný extrakt z listů 24% ginkgoflavonoglykosidů a 6% terpenolaktonů), kokosový olej, zahušťovadlo včelí vosk, emulgátor sójový lecitin, voda čištěná a barvivo E 172.
Obsah: 60 měkkých želatinových kapslí. Hmotnost obsahu: 36,2 g.
Dávkování: 1 kapsli denně polykat, nekousat. Přípravek je vhodné užívat dlouhodobě. Doporučené dávkování se nesmí překračovat.
Upozornění: Není určeno pro děti a mladistvé do 18 let, těhotné ženy a kojící matky. Ukládat mimo dosah dětí. Není určeno jako náhrada pestré, vyvážené stravy a zdravého životního stylu. Nevhodné pro osoby citlivé na včelí produkty. Neužívejte tento doplněk stravy společně s léčivy ovlivňujícími krevní srážlivost, se salicyláty a barbituráty. Užíváte-li jakékoliv léky nebo doplňky stravy, poraďte se o vhodnosti užívání tohoto doplňku stravy se svým lékařem.
Skladování: Uchovávejte při teplotě od 15 °C do 25 °C, v původním obalu, aby byl přípravek chráněn před světlem a vlhkostí.
Warning:
It is not intended for children and youths under 18 years of age. It is not to be used by pregnant women and breastfeeding mothers. Keep out of reach of children. It is not intended as a replacement of a well-balanced diet. Do not use in case of blood clotting disorders or in case of using any medication influencing blood clotting including salicylates and barbiturates. If you use any medication or food supplements or if you have any health problems consult using this product with your physician..
Víte že...
The extract from the leaves of Ginkgo biloba has been used for centuries to protect health, why it is called "The tree of the aged and wise people". The leaves contain a large quantity of flavonoids, terpens, organic acids and other substances which structure cannot be exactly differentiated even by modern science. Complex of these substances called "ginkgolides" is contained in no other plant. The basic effect of leaf extract is dilation of the capillaries of the peripheral vascular system and improvement of blood flow parameters (vasodilatation) and also antioxidant effects.
Its use results in improved blood flow in all vessels in the human body which causes better oxygen and nutrients delivery to all body organs. In the brain tissue it improves oxygen utilization in the cell which improves concentration and general mental functions: students remember what they learn better, managers handle more activities and are more competitive, elderly people are partially relieved of their forgetfulness, states of confusion and depression. Improvement of blood flow in the body, however, is not concentrated only in the brain but also in "peripheral" parts of the body: improved blood supply in the inner ear results in removal of unpleasant tinnitus. Also retinal circulation is improved in patients with diabetes and delays the development and progression of diabetes-related eye problems that may result in loss of vision. Another area of use is reconvalescence in people after strokes where Ginkgo helps faster rehabilitation and reduction of symptoms.