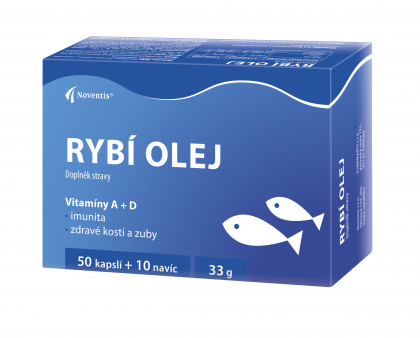 Fish oil
Capsules containing Vitamin A and D for the proper functioning of skeleton and denture. Vitamin D plays key role in immune system activation
Capsules containing Vitamin A and D for the proper functioning of skeleton and denture. Vitamin D plays key role in immune system activation
Natural source of A and D vitamins and unsaturated fatty acids
Fish oil (Oleum jecoris aselli) is obtained from fresh liver of some kinds of codfish, in particular Gadus marrhua L. It has been known for a long time as one of the most important natural sources of vitamin A and D as well as a number of non-saturated fatty acids. Vitamin A is an inevitable substance for proper functioning of human retina. It is vital for restoration and proper functioning of skin and mucous membranes. Also the role of vitamin A is essential for proper functioning of the immune system.
Vitamin D regulates metabolism of calcium and phosphate in the body and that is why it is essential for proper development and for proper functioning of skeleton and denture.
One capsule contains
| | | |
| --- | --- | --- |
| | Content in1 capsule | % RDI* |
| Vitamín A | min. 78 µg | 9,7 % |
| Vitamín D | min. 0,65 μg | 13 % |
% RDI = % Recommended Daily Intake in a single capsule.
Composition: Fish oil, gelatin, humectants glycerol and sorbitol, purified water.

Contents: 30 soft gelatine capsules.

Dosage: Adults 1-2 capsules 2-3 times a day, children 1 capsule 2-3 times a day. The capsules should be taken after meals and swallowed with a glass of water.
--- no question was inserted ---
Warning:
It is not intended for children under 3 years of age. Keep out of reach of children. It is not intended as a replacement of a well-balanced diet. Do not use in case of blood clotting disorders or in case of using any medication influencing blood clotting. If you use any medication or food supplements or if you have any health problems consult using this product with your physician.
Adverse effects:
In usual dosage there are minimum adverse effects. Oil intake is tolerated up to 3 g daily. In higher doses, it may cause belching, bad breath, heartburn, vomiting, diarrhoea, nasal bleeding and suppression of the immune system. If you use antihypertensive drugs or medication influencing blood clotting, you must note that fish oil reduces blood pressure and reduces blood clotting parameters. If you have problems with bleeding or blood pressure, consult your physician or pharmacist.