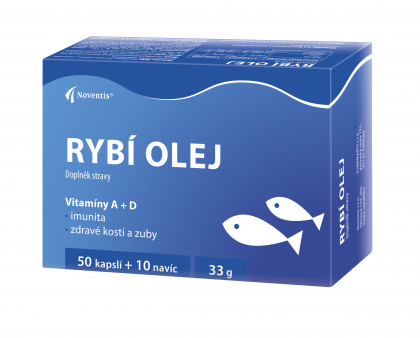 Fish oil
Capsules containing Vitamin A and D for the proper functioning of skeleton and denture. Vitamin D plays key role in immune system activation
Capsules containing Vitamin A and D for the proper functioning of skeleton and denture. Vitamin D plays key role in immune system activation
Natural source of A and D vitamins and unsaturated fatty acids
Fish oil (Oleum jecoris aselli) is obtained from fresh liver of some kinds of codfish, in particular Gadus marrhua L. It has been known for a long time as one of the most important natural sources of vitamin A and D as well as a number of non-saturated fatty acids. Vitamin A is an inevitable substance for proper functioning of human retina. It is vital for restoration and proper functioning of skin and mucous membranes. Also the role of vitamin A is essential for proper functioning of the immune system.
Vitamin D regulates metabolism of calcium and phosphate in the body and that is why it is essential for proper development and for proper functioning of skeleton and denture.
One capsule contains
| | | |
| --- | --- | --- |
| | Content in1 capsule | % RDI* |
| Vitamín A | min. 78 µg | 9,7 % |
| Vitamín D | min. 0,65 μg | 13 % |
% RDI = % Recommended Daily Intake in a single capsule.
Composition: Fish oil, gelatin, humectants glycerol and sorbitol, purified water.

Contents: 30 soft gelatine capsules.

Dosage: Adults 1-2 capsules 2-3 times a day, children 1 capsule 2-3 times a day. The capsules should be taken after meals and swallowed with a glass of water.
Dobrý den, nemám rád ryby, nejím je. Jaký doplněk stravy mi doporučíte? (User: MH)
Answer from NOVENTIS:
Ryby obecně jsou zdrojem velmi kvalitních bílkovin, ale daleko zajímavější je složení jejich tuků. Obsahují totiž vysoké procento tzv. omega 3 polynenasycených mastných kyselin, zejména pak kyselinu eikosapentaenovou (EPA) a dokosahexaenovou (DHA), které mají pro lidské zdraví nenahraditelný význam. Pokud tedy nejíte ryby, náhradou mohou být doplňky stravy Omega 3 1000 mg nebo koncentrovanější Omega-3 Max 30/20 z kvalitního rybího oleje. Olej se získává z hlubinných ryb žijících v chladných mořích. Omega 3 Max 30/20obsahuje zvýšený podíle omega-3 nenasycených mastných kyselin EPA (min 30 %) a DHA (min 20 %). Alternativou je samozřejmě také doplněk stravy Rybí olej- který se vyrábí v menších kapslích a dobře se polyká nejen dospělým, ale i dětem
Doplněk stravy
Vitamíny A + D
imunita
zdravé kosti a zuby
Rybí olej je přírodním zdrojem vitamínů A a D. Vitamín A je důležitý pro udržení normálního stavu sliznic, pokožky, zraku a také imunitního systému. Vitamín D je významný pro správnou funkci kostry a chrupu a přispívá také k zachování dobré funkce imunitního systému.
Denní dávka obsahuje
| | | | | |
| --- | --- | --- | --- | --- |
| | 3 kapsle | *% ve 3 kapslích | 6 kapslí | *% v 6 kapslích |
| Rybí olej | 1290 mg | | 2580 mg | |
| z toho vitamín A | min. 234 μg | 29,1 % | min. 468 μg | 58,2 % |
| z toho vitamín D | min. 1,95 μg | 39 % | min. 3,9 μg | 78 % |
*% referenční hodnota příjmu
Složení: Rybí olej (PhEur), želatina, zvlhčující látky glycerol a sorbitol, voda čištěná.
Obsah: 30 měkkých želatinových kapslí.
Hmotnost obsahu 17g.
Dávkování: Děti 1 kapsle 3krát denně, dospělí 1-2 kapsle 3x denně, polykat, nekousat.
Doporučené dávkování se nesmí překračovat.
Upozornění: Není určeno pro děti do 3 let.
Ukládat mimo dosah dětí.
Neužívejte při poruchách krevní srážlivosti nebo užíváte - li jakékoliv léky ovlivňující krevní srážlivost. Není určeno jako náhrada pestré, vyvážené stravy a zdravého životního stylu. Užíváte-li jakékoliv léky nebo doplňky stravy, poraďte se o vhodnosti užívání tohoto doplňku stravy se svým lékařem.
Skladování: Uchovávejte při teplotě od 15°C do 25°C, v původním obalu, aby byl přípravek chráněn před světlem a vlhkostí.
Warning:
It is not intended for children under 3 years of age. Keep out of reach of children. It is not intended as a replacement of a well-balanced diet. Do not use in case of blood clotting disorders or in case of using any medication influencing blood clotting. If you use any medication or food supplements or if you have any health problems consult using this product with your physician.
Adverse effects:
In usual dosage there are minimum adverse effects. Oil intake is tolerated up to 3 g daily. In higher doses, it may cause belching, bad breath, heartburn, vomiting, diarrhoea, nasal bleeding and suppression of the immune system. If you use antihypertensive drugs or medication influencing blood clotting, you must note that fish oil reduces blood pressure and reduces blood clotting parameters. If you have problems with bleeding or blood pressure, consult your physician or pharmacist.