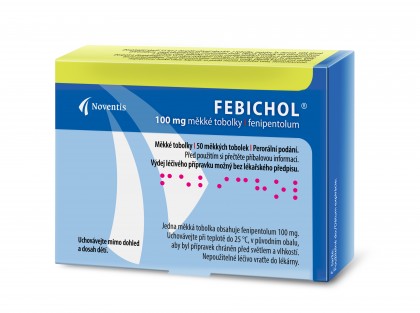 FEBICHOL
You can buy it in your pharmacy
Soft gelatin capsules
Febichol is a choleretic agent which means a drug increasing the production of bile. Each capsule of Febichol contains 100 mg of active ingredient fenipentol (fenipentolum).
Febichol capsules are to be used by adult patients to treat digestive problems in chronic (long-term) liver disease and bile duct disease (disorders of gall bladder activity, chronic cholecystitis, chronic development of gall bladder stones, chronic liver disease associated with digestive symptoms caused by impairment or disorder of biliary tree) and conditions after surgical removal of gall bladder or after hepatitis. The product may be used by adults and youths older than 15 years of age.
Dosage: Standard dosage for adults and youths over 15 years of age is 2 capsules of Febichol three times a day (always immediately before meals), some patients with less severe symptoms may use Febichol only occasionally as needed (2 capsules immediately before meal).
Capsules are to be swallowed unchewed and unmacerated (the contents have hot, bitter taste!) and are to be swallowed with sufficient amount of water (e.g. one glass of water). Febichol capsules may be used in the long-term. However if you intend to use them continually longer than 14 days, consult your physician who will advise you whether it is appropriate for your particular case.
Adverse effects: Febichol capsules are in general well tolerated.
Some patients may report heartburn [or having "hot feeling in the throat (in the pharynx and the esophagus) or burning retrosternal pain] or feeling burning in the stomach". Some patients using Febichol capsules report symptoms hard to discern from their own treated symptoms (feeling pressure and fullness in the upper abdomen, nausea, flatulence). Rarely, allergic reactions (hypersensitivity reactions) such as urticaria (efflorescence of itching, red extensive, confluent elevated spots on the skin), skin rash or face swellings cannot be excluded. If you develop any of the mentioned symptoms of hypersensitivity reactions, stop using Febichol and seek medical help immediately!
Package: One package contains 50 soft gelatin capsules.
Storage: Store at temperature 25°C in the original container to protect against light and moisture.
Keep out of reach and sight of children.
Medicinal product for internal use. Read carefully the package information that can be found in part VPOIS.
--- no question was inserted ---
Click the button below to confirm that you are a healthcare professional within the meaning of the Advertising Regulation Act No. 40/1995 Sb., That is, the person authorized or authorized to prescribe or publish medicinal products.
I CONFIRM THAT

I'M HEALTHCARE PROFESSIONAL
The following web pages are designed for health care specialists only, i.e. for people authorized to prescribe and hand out medications. Here, you can find a link to specialist information services for health care professionals, summaries of product characteristics and various useful supplementary services, such as provision of special information, interesting links, etc.