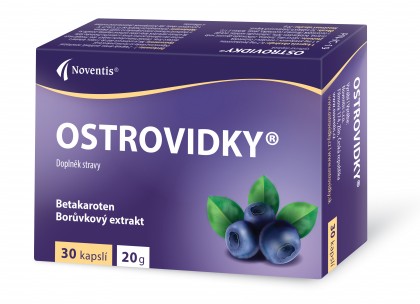 Ostrovidky
Capsules with beta-carotene and blueberry extract for maintenance of eye health.
Capsules with beta-carotene and blueberry extract for maintenance of eye health.
Blueberry extract
Maintains eye health.
Supports blood flow to the eye
Provides antioxidant support for the eyes
1 capsule contains:
| | | |
| --- | --- | --- |
| | Content in1 capsule | % RDI* |
| beta-carotene | 6,7mg | - |
| antocyans of blueberry extract | 1 mg | - |
* % RDI = % Recommended Daily Intake in a single capsule.
Composition: soybean oil, gelatine, humectant glycerol, purified water, beta-carotene, humectant sorbitol,antocyans of blueberry extract. The product also contains colour E172.


Contents: 30 soft gelatine capsules.

Dosage: 1 - 2 capsules a day. The capsules should be taken with meals and swallowed with a glass of water.
The recommended dosage must not be exceeded.

Co mám dělat, aby se mi zrak v průběhu života nezhoršil? (User: )
Answer from NOVENTIS:
Tak jako celý organismus, tak také oči procházejí procesem stárnutí. A pokud chceme jejich bezproblémovou funkčnost co nejdéle zachovat, měli bychom se o ně patřičně postarat a nepřetěžovat je. Důležité je oči pravidelně kontrolovat u očního specialisty po 40. roku věku.
Doplněk stravy
Betakaroten
Borůvkový extrakt
pro zachování dobrého zraku
1 kapsle obsahuje 6,7 mg betakarotenu a 1 mg antokyanů z borůvkového extraktu.
Složení: sójový olej, želatina, zvlhčující látka glycerol, voda čištěná, betakaroten, zvlhčující látka sorbitol, extrakt z borůvek (Vaccinium myrtillus), barvivo E 172.
Obsah: 30 měkkých želatinových kapslí.
Hmotnost obsahu 20 g.
Dávkování: 1-2 kapsle denně, polykat, nekousat.
Doporučené dávkování se nesmí překračovat.
Upozornění: Není určeno pro děti do 3 let
Ukládat mimo dosah dětí
Není určeno jako náhrada pestré, vyvážené stravy a zdravého životního stylu.
Užíváte-li jakékoliv léky nebo doplňky stravy, poraďte se o vhodnosti užívání tohoto doplňku stravy se svým lékařem.
Skladování: Uchovávejte při teplotě od 15 °C do 25 °C, v původním obalu, aby byl přípravek chráněn před světlem a vlhkostí.
Click the button below to confirm that you are a healthcare professional within the meaning of the Advertising Regulation Act No. 40/1995 Sb., That is, the person authorized or authorized to prescribe or publish medicinal products.
I CONFIRM THAT

I'M HEALTHCARE PROFESSIONAL
The following web pages are designed for health care specialists only, i.e. for people authorized to prescribe and hand out medications. Here, you can find a link to specialist information services for health care professionals, summaries of product characteristics and various useful supplementary services, such as provision of special information, interesting links, etc.
Warning:
It is not intended for children under 3 years of age. Keep out of reach of children. It is not intended as a replacement of a well-balanced diet. If you use any medication or food supplements or if you have any health problems consult using this product with your physician.