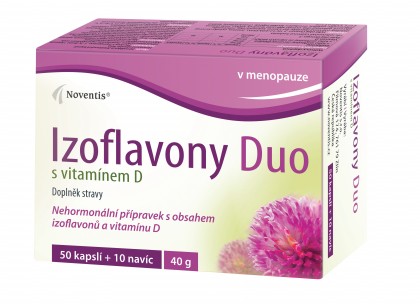 Isoflavones Duo with vitamin D
A hormone free product containing isoflavones and vitamin D
Food supplement ISOFLAVONES DUO with VITAMIN D
is a hormone-free product combining red clover and soy isoflavones and vitamin D. Isoflavones are often called phytoestrogens because of their chemical structure similar to female sex hormones - estrogens. They sensitively support hormonal balance and harmonic course of the entire menopausal period. Taking phytoestrogens is a suitable alternative for women who for various reasons cannot or do not want to solve their menopausal problems with hormonal substitution therapy. The product is enriched with vitamin D which affects calcium and phosphorus metabolism and is very important for proper bone mineralization.
1 capsule containse:
| | | |
| --- | --- | --- |
| | 1 capsule | % RDI* |
| Isoflavones | 40mg | - |
| Red clover isoflavones | 30 mg | - |
| Soy isoflavones | 10 mg | - |
| Vitamín D | 2 µg | 40% |
| Omega-3 fish oil | 300 mg | - |
*% RDI – Recommended Daily Intake in a single capsule.
Composition: Fish oil Omega-3 18/12 (EPA/DHA), gelatin, red clover extract, coconut oil thickener, glycerol humectant, palm-oil thickener, soy extract, purified water, sorbitol humectant, emulsifier soy lecithin, colecalciferol, E171, E120 and E172 colours.
Contents: 60 soft gelatin capsules.
Dosage: For women in menopause: 1-2times daily 1 capsule. The capsules should be taken before meals and swallowed with a glass of water. The recommended dosage must not be exceeded.
Storage: Store between 15 °C and 25 °C in the original packaging to protect the product from light and moisture.
--- no question was inserted ---
Warning:
The product is not intended for children and youths under 18 years of age, pregnant and breastfeeding women. The product is not intended for women with a history of breast and uterine cancer. Keep out of reach of children. It is not intended as a replacement of a well-balanced diet. Do not use in case of blood clotting disorders or in case of using any medication influencing blood clotting. If you use any medication or food supplements or if you have any health problems, consult using this product with your physician.